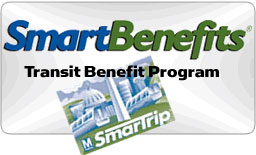 SmartBenefits is a web-based program that lets employers load the dollar value of an employee's  commuter benefit directly on his or her SmarTrip card for use on transit. Employees will receive their benefits when they tap their SmarTrip card at a rail fare gate or bus farebox. This process is called Autoload. The SmarTrip card costs $5 and can be registered with a unique serial number at the time of purchase to protect against loss.
Big Changes to SmartBenefits!
SmartBenefits is now in compliance with the new IRS mandate, which states that parking and transit benefits must be separated to "restrict commingled use."
Employers, this change means that if you provide transit AND parking benefits, you MUST separate those benefits into benefit category types.